I'm writing today at the end of a European vacation that took me to London, Tenerife, Madrid and Monte Carlo.
Despite the strong dollar, travel to Europe from America is off somewhat this year, due primarily to the fear of terrorism. It's understandable that some people are afraid to travel after a terrorist attack, but I'm not one of them.
Travel is a right and a privilege that none of us should be denied. There's an immense and incredible world out there, calling out to be explored, and only so much time in which to see it.
Anyone who has vacationed internationally knows that travel, above all other things, builds bridges between countries, cultures, religions, races and individuals. Everyone at Vacations To Go feels blessed to be part of such an amazing industry, and it is an honor to be trusted to annually help more than 700,000 customers see the best that the world has to offer.
If the number of Americans in Europe this summer is a little lower than usual, I certainly couldn't tell it from the packed streets, cafes and tourist attractions everywhere I went.
I stood in line for an hour to enter Westminster Abbey in London, one of my favorite places, and I shudder to think how long the queue might have been if it hadn't been raining.
I took the enjoyable, self-guided audio tour there, as I did at the Tower of London, another of my favorites, and stopped afterward for a pint at the colorful Hung, Drawn and Quartered pub.
Madrid was equally busy, with bustling squares and streets and vibrant nightlife on rooftop bars. Outdoor cafes were packed starting at 10 p.m., not coincidentally about the time the 100-degree heat of the summer day begins to wane. Bring on the tapas and ice-cold sangria!
On Tenerife, largest of the Canary Islands, I floated just offshore with a dozen pilot whales (there year-round) and a stray humpback whale, usually seen in February in those waters. I hiked through and around the spectacular, sheer cliffs of Los Gigantes, which rise from the sea to a height of 2,600 feet, took a helicopter tour of the island and rode a cable car to the top of El Teide, a 12,000-foot active volcano.
Tenerife's breathtaking natural beauty is on display just far enough off the beaten path to allow tourists to escape the crowds, even in summer.
I then flew to Nice and was shuttled to nearby Monte Carlo. A couple of days later, I heard the horrific news that someone had driven a truck into a crowd of children, women and men along the oceanfront in Nice.
Initial suspicions were quickly confirmed when it became clear that the crime was the act of another jihadist lunatic. The target was not just the good people on the Promenade des Anglais, or the people of Nice, or the people of France, but people who live free from tyranny, anywhere on Earth.
At least 84 killed, more than 100 injured, a mile-long trail of carnage and cruelty.
I resolved then to visit the Promenade to pay my respects, and here I am.
Today, along the Cote d'Azur, sunlight glistens off the water and a lone swimmer back strokes against the tide. Families spread their blankets on the rocky beach and children play at the water's edge.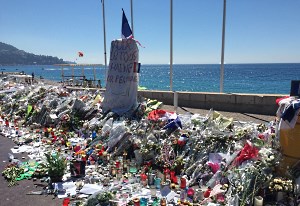 But only a few steps away, on the pedestrian promenade, a memorial has sprouted and the city publicly grieves. People speak in hushed tones or not at all, hugging, crying, consoling.
Scattered amid thousands of flower bouquets and handwritten cards, there is a heart-wrenching display of ownerless toys and tiny stuffed animals. Candles flicker for those whose lights have been extinguished.
We will never know what all those children might have done with their lives, the songs they might have sung, the books they might have written, the light they might have brought to the darkness. All of that potential was swept away by the pointless act of a misguided coward.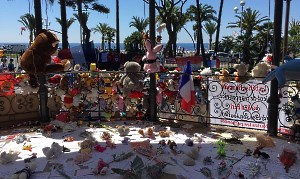 The memorial has spread across the wide boulevard to the park, where it continues to grow at a rapid rate. The outpouring of love and goodwill from people of all nationalities is touching and inspiring.
This is a tribute to those who lost their lives and to those who lost loved ones, to be sure, but it also seems to me to be a tribute to what is good in the world.
A prayer for Nice is a prayer for the world.
Sincerely,
Alan Fox
Executive Chairman
Vacations To Go
To email this newsletter to a friend or friends, click here. To see a copy of our current newsletter, click here. To subscribe to our weekly newsletter, absolutely free of charge, please click here.