Celebrate, Discover, Experience -
Martha Stewart for MSC Cruises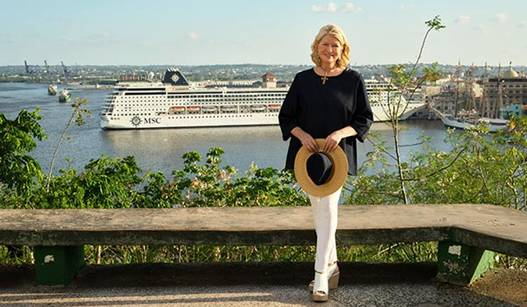 MSC Cruises is partnering with internationally acclaimed home and lifestyle expert Martha Stewart on new, exclusive culinary and discovery experiences on board and ashore. The partnership -- themed Celebrate, Discover, Experience -- includes specially curated shore excursions, celebration surprise gift packages, and onboard special holiday dinner menus and recipes. We welcome you on board for a journey of discovery like no other.
Exclusive Martha Stewart Excursions*
In an exclusive partnership with MSC Cruises, Martha Stewart's new excursions go a step above the ordinary, taking you on an authentic journey of the islands to discover their hidden gems. Here, adventurous explorers will learn from experts how each island's rich local history, geography and traditions inspire their cuisine, art and landmarks.
Whether participating in a hands-on cooking class, tasting authentic dishes in a local restaurant, discovering waterfalls and secluded coves, or exploring botanic gardens and organic farms, you won't want to miss these true-to-life specialty excursions that reveal, in Martha Stewart fashion, the real flavors of the islands.
Martha Steward Celebration Surprises*
Nothing speaks more powerfully than a thoughtful surprise gift to mark life's most special milestones, whether it's a birthday, honeymoon or anniversary. Martha Stewart and MSC Cruises invite you to celebrate your special occasion on board, with a selection of 3 different surprise celebration gifts that embody the things Martha values most -- good food, good company and the opportunity to commemorate achievements and adventures.
These tastefully designed gifts can be purchased prior to sailing or once you arrive on board for delivery to one's stateroom.
Martha Stewart Special Holiday Dinner Menus and Recipes
For MSC Cruises and Martha Stewart, the holidays are a special time of the year, marked by celebrations with friends and family. Food is at the heart of the holidays, and Martha Stewart brings her culinary flair, beautiful garnishes and love of classics straight from her kitchen to our restaurant menus on board with 3-course dinner recipes for Easter, Thanksgiving, Hanukkah, Christmas and New Year's. Join us for dinner as we create lasting memories together this holiday season.
*Excursions and gifts are available at an additional cost.
To view a complete list of departure dates on ships currently offering this program, please click here.