Marvel Day at Sea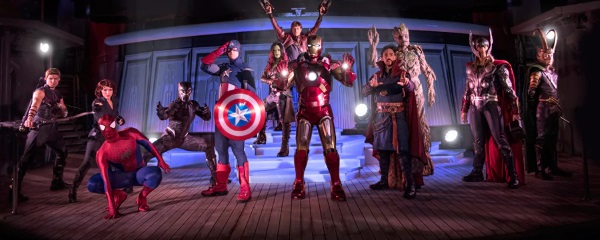 Take a stand with some of Marvel's mightiest heroes and villains for an epic day filled with one-of-a-kind entertainment, unforgettable meet-and-greets and special offerings.
Heroic Encounters
Brave photos, meet-and-greets and training sessions with some of Marvel's mightiest, including Spider-Man, Iron Man and Captain America.
Photo Ops: Reserve a time slot and then prepare to unleash the hero within as you strike a legendary pose alongside Iron Man, Spider-Man and—for the first-time ever as part of a Disney vacation experience—Black Panther during scheduled Super Hero photo sessions.
Character Sightings: Come face-to-face with Captain America, Thor, Loki, Doctor Strange, Black Widow, Hawkeye, Star-Lord, Gamora and Groot throughout the ship!
Heroes-in-Training: Kids are invited to discover the Super Hero within when some of Marvel's most awe-inspiring swoop in to MARVEL's Avengers Academy inside Disney's Oceaneer Club.
Thrilling Entertainment
Witness a breathtaking Super Hero stunt show, experience the mystic arts with Doctor Strange and join Star-Lord and Gamora inside Fathoms.
Stunt Show Spectacular: Families assemble for a nighttime show where more than a dozen of your favorite Marvel Super Heroes—and villains—come together for a grand deck-side extravaganza featuring pyrotechnics and fireworks.
A Mystical Show: Behold the power of the mystic arts with Doctor Strange—and join in a battle against the Dark Dimension—inside the Walt Disney Theatre.
Ravagers Night Club: Adults dance the night away in Fathoms, home to an awesome mix of dancing, cocktails and appearances by Star-Lord and Gamora.
Heroic Mickey and Friends: Join in the fun as Mickey, Minnie, Donald, Daisy, Goofy, Pluto and Chip 'n Dale dress up to honor their favorite Marvel Super Heroes! Young cruisers won't want to miss this opportunity to have some fun and dance with the gang on deck.
Action-Packed Activities
A movie marathon, a costume celebration and unique youth club programs are just some of the Marvel-themed goings-on happening on the ship.
Costume Celebration: Suit up as your favorite Marvel Super Hero or villain and join other fans for an unforgettable party of heroic proportions.
Movie Screenings: Catch the newest Marvel Studios blockbuster inside the Buena Vista Theatre—plus take in a movie marathon featuring past hits.
Kids Clubs: Marvel-themed craft-making, games and special programming are available to young heroes inside Disney's Oceaneer Club. Kids can train to become secret agents, learn the path to becoming worthy with Thor, and hone their reflexes, speed and intellect with Spider-Man.
Funnel Vision: Feel your senses tingle watching Marvel TV animated series during open-air Funnel Vision screenings.
Marvel 101: Brush up on the Marvel Universe during this eye-opening, interactive Super Hero session.
Family Trivia: A battle of wits! Unleash your inner fan with challenging games designed to test your knowledge of Marvel's heroes and foes.
Animation Academy: Learn how to draw popular Marvel Super Heroes—like Spider-Man, Captain America, Iron Man and Groot—and take a quiz to determine the perfect Marvel comic for you.
To view a complete list of departure dates currently offering Marvel Day at Sea, please click here.