Pixar Day at Sea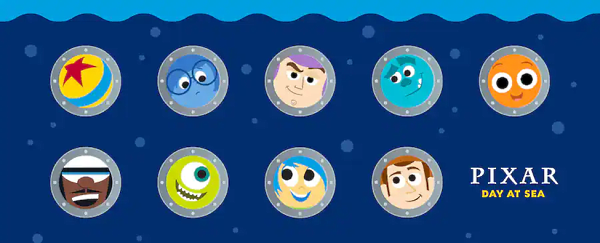 Sail away on a brand-new Pixar adventure, where you're invited to sing, dance, play and swim with your favorite toys, supers, monsters and more. Pixar Day at Sea combines the power of friendship with the magic of Disney for an incredible day of rootin' tootin', one-of-a-kind surprises for kids of all ages.
Storied Encounters
Hang out with some of your favorite Pixar Pals during fun-filled Character encounters and more. Guests of all ages are invited to make their starry-eyed dreams come true.
Be sure to bring your very best smile—and don't forget those cameras—as you meet with familiar friends from Toy Story, Monsters, Inc., The Incredibles and more!
Incredible Entertainment
Channel your superpowers during an action-packed deck party.
Dance Party: Everyone's favorite Pixar pals are on hand for a high-spirited dance party, with music and Characters from the Pixar films you love.
Nighttime Spectacular: Be flexible and prepared for anything, as you may have to help The Incredibles save the day.
Themed Dining
Get ready for a spectacular day of Pixar fun and excitement – with interactive dining that is filled with character.
Character Breakfast: Join Sheriff Woody, Jesse and Bullseye for a rootin' tootin' good time during a musical interactive Character breakfast.
Pixar Day at Sea Dinner: Get a taste of an animator's life as you enjoy a delicious dinner with dishes inspired by the commissary at the California-based Pixar Animation Studios.
Undersea Magic with Crush: Immerse yourself in the underwater world of the Disney and Pixar animated film Finding Nemo. As you dine, enjoy a visit from some of your favorite Finding Nemo friends—you may even share in a conversation with Crush, the totally tubular turtle from the hit movie!
To view a complete list of departure dates currently offering Pixar Day at Sea, please click here.