Star Wars Day at Sea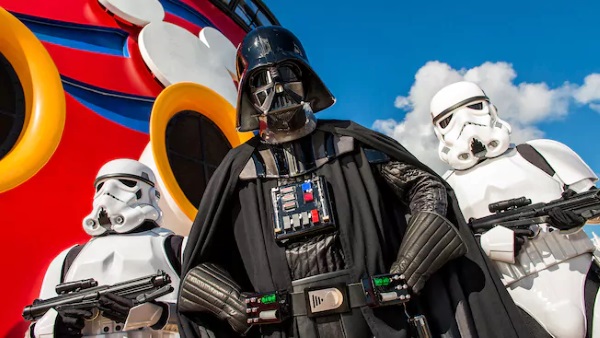 Blast off to experience the heroes, villains and rousing action of the legendary saga up-close. Star Wars Day at Sea combines the power of the Force and the magic of Disney in an engaging, day-long adventure unlike any other.
Epic Encounters
Feel the Force during surprise sightings and stellar character experiences with over a dozen Star Wars Characters—including Chewbacca, R2-D2, C-3PO and Darth Vader.
Character Experiences: Reserve a time and then prepare to come face-to-face with the likes of Chewbacca, C-3PO, R2-D2 and Darth Vader during scheduled Star Wars photo sessions.
Star Wars Sightsings: Be on the lookout for surprise shipboard run-ins with roaming characters including Boba Fett, Jawas and First Order Stormtroopers plus some of your favorites from Star Wars Rebels, including Sabine, Ezra and Ahsoka Tano.
Star Wars Resistance Base: Younglings must defend against the dreaded First Order during this puzzle-solving adventure game inside Disney's Oceaneer Club
Recruitment Effort with BB-8: Little rebels can join in the Resistance when BB-8 and a pilot turn up inside Disney's Oceaneer Club looking for recruits.
Out-of-this-World Entertainment
Train to be a Jedi, witness the power of a stirring, Star Wars-themed stage-show spectacular, and be moved by the saga's signature music as fireworks light up the night out at sea.
Summon the Force Show: Behold the sensational saga's most iconic moments on deck during this thrilling nighttime stage show starring Rey and other popular Star Wars characters.
Jedi Training: Trials of the Temple: Younglings are invited to train in the ways of the Force—and then test their new skills against Darth Vader and Kylo Ren. Family and friends can watch the younglings test their lightsaber-wielding skills against the villains they love during this impressive and fun show.
Fireworks at Sea: Sail the ocean to a galaxy far, far away as fireworks—set to John Williams' Star Wars score—light up the sky above you.
Galactic Activities
Guest speakers, costume celebrations, movie screenings, family trivia, a ship-wide scavenger hunt and youth club fun with the lovable BB-8 make this Star Wars sailing a blast.
Special Guest Speakers: Get the scoop on what it's like to bring the Star Wars universe to life during panel discussions with those who know firsthand.
Costume Celebrations: Suit up as your favorite Star Wars hero or villain and join other fans for unforgettable cosplay parties in the grand Atrium.
Movie Marathon: Relive the mythic journey of the Skywalkers during screenings of all 9 films—including Star Wars: The Last Jedi.
Porgs Onboard! Scavenger Hunt: Help Chewbacca locate the porgs that have been wreaking havoc throughout the ship! At the end of the hunt, meet the legendary Wookiee himself for an exciting photo opportunity.
Family Trivia: A battle of wits! Unleash your inner fan with challenging games designed to test your knowledge of Star Wars heroes and foes.
Star Wars Drawing Academy: Calling all Padawans: Learn to draw some of your favorite Star Wars characters, including Yoda, BB-8, Darth Vader and more.
Star Wars 101: New to the Star Wars Universe, young rebel? Brush up on the acclaimed story during this eye-opening, interactive session.
To view a complete list of departure dates currently offering Star Wars Day at Sea, please click here.