South America by Sea
From the chic scenes of Rio to the jungles of the Amazon, cruises showcase this alluring continent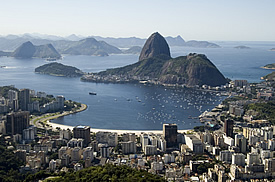 Trek, tango or wine and dine your sweetheart -- South America offers a diverse array of pursuits in its exotic locales. With so many choices available, visitors often opt for an oceangoing vacation for a panoramic view of the continent.
Cruises offer a unique way to see South America, says Cheryl Cunningham, director of special projects and group sales for Vacations To Go, a national travel agency specializing in cruise discounts. From ecotours and historic sites to stylish cities and arts and culture, cruises compile the best of the region in one engrossing itinerary.
"South America has some of the most incredible mountain ranges, waterfalls and rain forests -- I think people go there just to experience the beauty of it," Cunningham says. "At the same time, South America can be very chic and trendy, especially in the capital cities. Fine foods, wines and entertainment await in Santiago, Rio de Janeiro and Buenos Aires."
And don't forget the beaches, Cunningham adds. Where else can travelers see, or even be, "The Girl From Ipanema"? Thousands of miles of sunny sand and cool waves, such as Rio's famed shores, are ready for inspection. The skimpy swimwear that made the city famous is completely optional, of course.
South American cruises last anywhere from three days to three months, though the most popular trips clock in at two weeks on the water. Longer cruises of 14 days or more often depart from Miami and Fort Lauderdale in Florida. Shorter sailings are available from ports like Buenos Aires, Argentina, and Rio de Janeiro and Sao Paolo in Brazil.
A number of cruise lines make the trip easy. Those seeking a luxurious sailing can choose from four six-star lines that offer South America sailings: Crystal Cruises, Regent Seven Seas Cruises, Seabourn Cruise Line and Silversea Cruises. Passengers looking for greater insight into the culture and history of each port can opt for an expedition cruise line like Voyages of Discovery, which offers onboard lectures and other enrichment programs.
Mainstream lines such as Princess Cruises, Norwegian Cruise Line, Holland America Line and Royal Caribbean International also work South America itineraries into their schedules. Vacations To Go offers many of these sailings at bargain prices on its Web site, www.VacationsToGo.com. For example, at press time, the site showed a 49 percent discount for the Dec. 8 trip aboard the Star Princess. The two-week voyage departs Santiago, Chile, and starts at $1,601 per person.
Cruises from Santiago to Buenos Aires prove especially popular for those seeking a South American itinerary, Cunningham says, as these trips hook around the southern end of the continent and visit both the Pacific and Atlantic coasts. Cruises like these can include trendy port calls like Puerto Montt, a Chilean city with a distinct European ambience; wildlife-rich Puerto Madryn in Argentina; and Punta del Este, a popular summer retreat in Uruguay.
"A passenger could cruise the glaciers off the coast of Chile -- the Francia, Italia and Amalia glaciers, just to name a few -- and experience the Strait of Magellan, a very difficult natural waterway that connects the Atlantic and Pacific oceans. This would impress anyone who is interested in maritime history," Cunningham says.
Aside from skimming the continent's coastline, South American cruises can head eastward for a look at the Falkland Islands or turn to the south to explore the Antarctic Peninsula.
"To really experience Antarctica, you would need to book your vacation on an expedition ship," Cunningham advises. Though larger ships make the trip, too, smaller vessels can easily explore the remote ports and natural wonders available on the continent. Silversea's new expedition ship, the recently refurbished, 132-passenger Prince Albert II, embarks on 11- and 16-day trips to Antarctica from Ushuaia, Argentina. The vessel boasts the luxury staterooms and cosmopolitan ambience that are hallmarks of the six-star line, but it's also equipped with a strengthened hull for navigating these ice-filled waters and eight Zodiac boats that provide guests with up-close looks at the wildlife and landscapes. As an alternative, some lines offer flightseeing excursions that survey Antarctica by air.
Other cruises traverse the Panama Canal, offering access to both coasts of South America and, on occasion, squeezing in a Caribbean port or two. Holland America's Statendam, departing Fort Lauderdale on Nov. 10, offers a 13-day cruise that transits the canal and also calls in the Bahamas, Turks and Caicos and Ecuador before its final stop, Lima's Callao port.
Ships also can turn inland for a trip down the Amazon River. Most cruise lines use Manaus, the capital of Brazil's Amazonas state, as a springboard to the South American rain forest.
"Cruising the Amazon River and experiencing Manaus is like going back in time -- a glance of what the world might have looked like long ago," Cunningham says.
Sailings can be paired with hotel packages -- a combination called a cruise tour -- in popular South American cities, including Buenos Aires, Rio de Janeiro, Santiago and Peru's capital city, Lima. In Rio, visitors can catch the gondola up Sugar Loaf Mountain for a better view of the city's often-photographed statue, the 130-foot-tall "Christ the Redeemer." Depending on the season, both skiing and wine-making are big draws in Santiago.
Spending a day or two in a city after the cruise also gives travelers time to lose their sea legs and find their dancing shoes -- the samba and tango are just two of the techniques born on the continent. Travelers can sign up for a lesson or watch a performance.
South American cruises offer a variety of unique shore excursions, most of which explore the continent's fascinating history. "The pre-Columbian civilizations are a big draw for many and can be experienced when participating in the shore excursions," Cunningham says.
Peru's "lost city of the Incas," the mountaintop Machu Picchu, can be difficult to reach for independent travelers. Cruise lines, however, have established local contacts that simplify the taxing trek through the Andes.
"Other big draws are sites related to the colonization of South America. The many cultures and religions left their stamp, and the cities are very beautiful," Cunningham says. Spaniards founded Buenos Aires, Lima and the Venezuelan hot spot of Caracas in the early 16th century, and their influence can be seen in the food, customs and architecture of each city. From conquistador past to cosmopolitan present, these are intriguing destinations with fascinating histories.
Natural wonders are often on tap, too. There are excursions to the barking colonies of sea lions along the central coast of Chile, and diving and snorkeling opportunities among the island caves of western Colombia. South American cruises can include excursions to Iguassu Falls, a network of nearly 300 waterfalls along the border of Argentina and Brazil. Hikes through lush rain forests are available nearly everywhere on the continent but are especially beautiful in Brazil.
The South American cruising season typically lasts from late October to early April.
By Jennifer Davoren